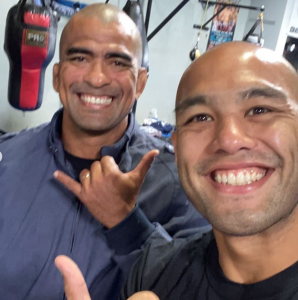 500 w/ Cuki Alvarez & Frank "The Crank" Camacho
Cuki "The Flying Cockroach" aka "The Janitor" & Frank "THE CRANK" Camacho talk about their near death experience car accident that happened on the I-405 S in California, the week of UFC 263 FIGHT WEEK for Frank The Crank Camacho and his cornerman Cuki Alvarez, who just had arrived to CA from Saipan.
Due to injuries sustained from the car collision accident, Frank The Crank Camacho had to withdraw from his UFC 263 bout against Matt Frevola.
We are grateful to have Frank & Cuki around to tell us this story with many life lessons to be extracted from this conversation. As well as some great snippets of the history of Trench Tech, Mixed Martial Arts in Saipan and the CNMI, & a little bit of everything in between.
BIBA ALVAREZ BIBA CRANK BIBA FOKAI BIBA MARIANAS
By Katy Galimberti, AccuWeather.com Staff Writer
August 7, 2015; 10:00 AM ET
Once-Super Typhoon Soudelor pummeled the island of Saipan in the Western Pacific ocean on its path to Taiwan and China this week.
Soudelor slammed Saipan with the intensity of a Category 2 hurricane on Sunday night, local time. Winds were measured up to 105 mph as the storm hit. However, winds may have been stronger than those reports, AccuWeather Meteorologist Eric Leister said.
"Soudelor was going through a period of rapid intensification as it passed over Saipan so even stronger winds may have occurred," he said
In Saipan, a U.S. commonwealth with a population of 53,000, fierce winds and drenching rain left a trail of damage…
Magical place!
The Saipan Grotto!
Perseverance:noun:TrenchTech /PurebredSaipan.
TrenchTech,the building, was burned down in early February. Trench Tech, the Family, lives on…Show your support for CNMI's competitive martial arts ambition. Connect with them @ http://www.facebook.com/profile.php?id=1445984088
TheFokai: FistofFury award is a salute given to individials/organizations commited and in action towards the goodwill and honorable service of martial arts and its positivie contributions to the people–
it was awarded to TrenchTec Saipan and its positive steering of the worldwide growing sport of MixedMartialArts competition.
TrenchTech/PurebredSaipan was unfortunately set afire by an arsonist two weeks ago. The cage was burned, the mat was burned, and all teh equpimpent was left destroyed. But something the fire couldnt destroy was the will of its members.
Fighting fire with Fire…TrenchTech Saipan will rise again.  The fire of Saipan martial arts is truly UNstoppable.Best of Luck and Here to support for the Ressurection…
via the flying cockoroach…
Hafa Adai All my Friends,
Just spreading the good Jiu Jitsu word that we will be hosting our 6th edition of our No-Gi Grappling/Submission Challenge (THE ART OF WAR) on Saturday, April 23rd at the Trench Tech Gym in Saipan CNMI.
In case some of you are wondering, this is an OPEN CLASS event and we categorize each player according to weight. There is no novice or advanced class. Its everyone vs. everyone; white belt level vs. Blue vs. Purple vs. Brown vs. Black…Saipan Style!
**Please see weight categories below:
Bantam Weight-115-135
Feather Weight- 136-145
Light Weight- 146-155
Welter Weight- 156-170
Middle Weight- 171-185
Light Heavy- 186-205
Heavyweight- 206- UP
Fee to participate is $10.00 (baba i ekonomia nai, it used to be $20) per player per class and players can join as many classes as they like as long as its not a lower weight class from their actual weight.
*Winners will receive MEDALS.
If you are flying up from Guam, I can get great rates on hotels and rent a cars.
Please spread the GOOD word to any and all interested No Gi BJJ practitioner/players who may want to compete. Appreciate it!
Email or call me if you have any questions at the address below.
Si Yu'us Ma'ase!
JoseQuantestrunning FokaiQuickdries@the 6-7-OYah!
Hafa Adai! Thanks to Nola Hicks and the Familia in Saipan–FokaiFemme will be throwing its first official headline party in the 67o to kick off the 2010Holiday seasons.  Goood Times for sure in the 67-OYah!
A 2010 glimpse into the training center of PurebredSaipan. MMA has been fluorishing in Saipan since its introduction to the CNMI in FuryFightingIslands Saipan in April of 2005.  from there–TrenchTech has since developed not only into a Martial Arts Acadey–but also a hub for physical fitness as well.
Winners in the Circle