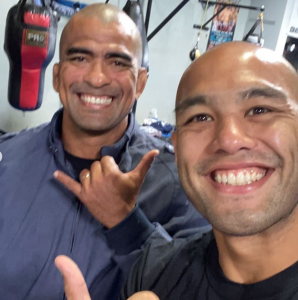 500 w/ Cuki Alvarez & Frank "The Crank" Camacho
Cuki "The Flying Cockroach" aka "The Janitor" & Frank "THE CRANK" Camacho talk about their near death experience car accident that happened on the I-405 S in California, the week of UFC 263 FIGHT WEEK for Frank The Crank Camacho and his cornerman Cuki Alvarez, who just had arrived to CA from Saipan.
Due to injuries sustained from the car collision accident, Frank The Crank Camacho had to withdraw from his UFC 263 bout against Matt Frevola.
We are grateful to have Frank & Cuki around to tell us this story with many life lessons to be extracted from this conversation. As well as some great snippets of the history of Trench Tech, Mixed Martial Arts in Saipan and the CNMI, & a little bit of everything in between.
BIBA ALVAREZ BIBA CRANK BIBA FOKAI BIBA MARIANAS
ONRA: MEET ROSE EARL!
72years old and has been attending every PXC event on Guam for the last 10 years and hasn't missed a show since. 
She is a massive fight fan and is up to date on all our current career fighter athletes. 
She attends every event by herself, much prefers general admission seating, and is sharp as a blade. 

The secret to her youth revealed… OATMEAL!

#saina
#onra
#sinceeversince
sinceeversince. Just dropping a not too far back photo taken from the walls of theGroundFu training center in Yona. circa 2007.  Lots of good times in this place and a whole lot of Mixed Martial Arts talent for sure.  For those that are in the know- athousand words at the very least.
Pretty blown away by opportunities available @ PurebredUnd1sputed 3038UniversityAvenue North Park ,SanDiego.  Reliable boxing, MMA, Jiujitsu, Kickboxing, and fitness programs facilitated by qualified and proven instructors in synchronicity of GoodVibrations plus the will to improve and learn–pave the way for greatness and achievment and even for the most challenged.
Its history of championship belts, tournament trophies, battle-proven  fighter-athletes and competitors ; an absolutely honorable program with the POW group, a Submission grappling program dedicated to the Spirit of Martial Arts, and  the imminent population of people looking for self-improvement; —we are proud be a part of this ethic and etiquette.  we feel honored to eat at the table of this family. thanks everyone
Exhaust the Body. Proceed the Mind. Cultivate the Spirit…or at the very least–try to.
Cruz, Taimanglo victorious in PXC 27
Guam – In the first amateur fight of the night Ryan Toves and James James took to the cage in a 155-pound match up. Toves shot it for the takedown midway through the first round. James looked to sink in the guillotine choke but couldn't get Toves to tap. Ryan Toves would work position and get the back of James and force him to tap in the first round.
Carlos Lopez made quick work of Martin Pablo in the heavyweight division. Lopez looked to keep the fight standing and use his reach to land some shots. Pablo would get caught with a knee and go down. After a brief timeout with what looked to be a low blow Lopez initiated the clinch and sunk in the standing guillotine choke to earn the win by submission in the first round.
Jay Tenorio and Mklane Alfred took to the cage next in another lightweight match up. Alfred threw a couple of leg kicks to feel out Tenorio. Jay Tenorio threw a flying knee that landed flush and dropped Mklane Alfred. Tenorio jumped on his opponent and landed several unanswered knees that connected, forcing referee Tony DeAngelo to call the fight minutes into the round awarding Jay Tenorio the win in his PXC debut.
Dylan Pablo stays unbeaten in his MMA career after picking the first round win against Matt Quenga. Pablo used his wrestling background to close the distance and get in for the takedown. Once the fight was on the ground Dylan was able to control Quenga and work the ground and pound with some staples to get the win by referee stoppage.
In the first professional fight of the night Korean Top Team Fighter Kim Doo Hwan squared off against Trench Tech Saipan Fighter Mylo Lassiter. Lassiter tried to pin Hwan against the cage and secure the takedown but the Korean showed excellent takedown defense. The first round was an exchange between the two heavyweights with both fighters landing their fare share of punches. With the 2nd round getting underway Kim Doo Hwan landed a solid knee that hurt Lassiter. The Korean Top Team Fighter jumped on Lassiter and got it the rear naked choke for his first win in PXC.
Fellow Korean Top Team Fighter Lim Hyun Gu met up with France Fighter Ferrid Kheder. Lim Hyun Gu came out throwing everything he had looking for the early knockout. The Korean fighter towered over the Judo practitioner making it hard for Kheder to land any shots. Lim Hyun Gu landed a flurry of punches that backed Ferrid into the cage and finished him off with more solid shots that ended the fight by stoppage.
California's JJ Ambrose secured a unanimous decision win over France Fighter Sebastian Garguier after 3 rounds. JJ looked good with his stand up after training in Thailand for the fight winning the stand up battle. Garguier attempted a couple of submissions from his back but couldn't pull any of them off as Ambrose controlled the fight on the ground. With the win JJ Ambrose improves his record to 17-3.
Kim Jang Yong made it a clean sweep for the Korean Top Team. Yong pulled off a first round arm bar win against Saipan's Fassi Jesse. Fassi dropping from 155 to 145 for this match up looked good early in the fight. Kim Jang Yong took the fight to Jesse and earned the #1 contender spot for the 145-pound division with his first round win.
Ryan Biggler made his come back to the PXC a successful one against Trench Tech's Keli Manglona. Manglona came into the fight as the Saipan Champion sporting a 4-0 record. Both fighters looked to land from up top when Ryan Biggler secured the takedown and landed in good position. Biggler took his time and was able to get full mount and work his way into getting the back of Manglona. Ryan got both hooks in and worked in the rear naked choke for the first round win.
In the most anticipated fight of PXC 27 Underworld X-Treme's Trevin Jones and Spike 22′s Justin The Shocker Cruz mixed it up for the 135-pound belt. The Champion Cruz worked the cage forcing Jones to stay light on his feet. Trevin Jones was able to pick his shots and land some knees in the exchange. The veteran Justin was able to absorb most of the shots and keep the fight moving. Jones kept the pressure on Cruz landing more of the punches when the two did exchange from up top. With the fight in the championship rounds, Justin The Shocker Cruz worked his game plan to a "T". Justin baited Jones in and scored on some takedowns. Justin worked the ground and pound cutting Trevin over the eye. Jones was able to take the fight to the 5th round where he landed a shot that cut Justin as the fight ended. When the judge's scorecards were turned in it was The Shocker who earned the win to retain his belt with the decision win behind the takedowns that proved to be the difference maker.
Baby Joe Taimanglo was awarded the unanimous decision win against Harris Sarmiento in the last fight of PXC 27. Baby Joe was all over Sarmiento for 5 rounds pinning him against the cage landing knees and punches. Taimanglo scored big on a hip toss that put the Hawaii Fighter on his head but couldn't keep him on the ground. Sarmiento showed why he is the PXC'S 155-pound champion making Joe work for every position and not allowing Taimanglo to take the fight to the ground. The Hawaii Fighter did what he said by keeping the fight standing but didn't have an answer to Taimanglo's relentless clinch game. After 5 rounds the Juggernaut Baby Joe Taimanglo finally earned his first MMA Title with the decisive win against a very tough opponent becoming the island's first 145-pound champion of the PXC.
The GuamGrapplingOrganizationPresents…!"
for more details go to www.spike22.com
K-1WorldMax, FuryFCF, and JungleRules veteran PatrickAyuyu of the Mariana Islands embracing his culture, discovering his role, and making a difference@13N144E
Exciting opportunities arise: New wrestling styles will be brought into wider spotlight
Welcome to the New World of Wrestling.
For the last few years this slogan has been displayed on the website of FILA, the International Wrestling Federation, as well as just about every piece of correspondence it produces. Now, the Guam Amateur Wrestling Federation is proud to follow suit and announce its movement to include the newly recognized wrestling styles of grappling, pankration, submission grappling, beach wrestling and mixed martial arts.
So far FILA, the only organization recognized by the International Olympic Committee to oversee all styles of wrestling, has not moved to have the IOC consider any of these styles for inclusion in the Olympic Games. Still, some people involved see that possibility as the next inevitable step in FILA's quest to expand and strengthen the stance of wrestling in the world of international sport. So what does this mean for Guam? It means a lot.
Everyone knows that there are a huge number of people practicing these styles at a number of gyms across the island, and rarely a day goes by without some form of media attention being paid to a Guam athlete's accomplishment on the mat. Logically, the first step to making the most of this wonderful opportunity for the island is to get as many people together that are already involved in these styles and to plan the way forward.
For this purpose, the Guam Amateur Wrestling Federation would like to invite any person who would like to be involved in this exciting new phase of Guam's participation in international mat competition to a meeting 4 p.m. April 16 at the Guam National Olympic Committee third-floor meeting room in Mongmong-Toto-Maite.
With so much mat knowledge and mat experience on the island, it is truly exciting to think of the possibilities for Guam's athletes, especially if the people with the knowledge and passion for these styles decide to get involved on the ground floor.
Once this initial planning is done, the next step is to have as many people on Guam become as knowledgeable as possible about the intricacies of the styles being promoted by FILA. To this end, there is a multi-country coaches' clinic scheduled for this May at the Spike 22 gym in Tamuning.
This clinic will bring together officials and coaches from across the Pacific. It will include as many coaches as possible from Guam who want to learn more about these styles. This is a great opportunity for all people involved in any form of mat sport to get first-hand training in what is sure to be the sporting styles of the future.
And where will it go from there? Well, what comes next remains to be seen. Fans of the Oceania Wrestling Championships will be glad to hear that there are plans to have grappling in next year's event in Canberra, Australia.
Also, plans are in full swing to have the 2013 Oceania Championships here on Guam and to include grappling in the program, as well as the traditional styles of international wrestling.
Exciting opportunities arise: New wrestling styles will be brought into wider spotlight
These two events alone will bring the new styles of wrestling into a much wider, regional spotlight and will provide a chance for the countries of the Oceania region to see Guam shine. No matter what happens, though, it is extremely exciting to think of the new opportunities Guam's athletes are being given to do their best and to represent the island.
For more information regarding the April 16 meeting, please call Jerome Fejerang at 483-8917.
Neal Kranz is president of the Guam Amateur Wrestling Federatio
Rich Chou, the Future Strikeforce Boss?

Here on BJPENN.COM we are no stranger to who Rich Chou is. He is a good friend of the Penn family, an MMA enthusiast and professional as well as the STRIKEFORCE matchmaker.
Recently, an article was put out in a publication from Guam. It was an in-depth piece on the man who keeps the wheels turning over at America's number 2 Mixed Martial Arts promotion and that man is our good friend Richard Chou.
The write up included several bits of information in regards to his credentials, upbringing and character. But what was most interesting was a quote from Strikeforce CEO Scott Coker, who said…
"Hopefully he can run Strikeforce one day and I can step down."
That is a pretty big statement and an acknowledgement of what a great asset Mr. Chou is to the Strikeforce organization. Many people often criticize Coker for not being enough like Dana White while manning the ship in the eyes of the public. Too often do the fans cry for a new face of Strikeforce to come forward and help push the promotion to the next level?
Maybe not today, maybe not tomorrow, but it sounds like BJPENN.COM's very own Rich Chou could very well be the successor to Coker's throne.
UFC Matchmaker, Joe Silva, gets a lot of credit for his matchmaking abilities. The name Joe Silva has even become a household name amongst the sports enthusiasts. But what is to be said of the recent UFC cards that he puts together? When you put them up with a Strikeforce show it almost pales in comparison to the action we see on the Showtime cards put together by Rich.
Aoki vs. Melendez, Diaz vs. Noons, Emelianenko vs. Werdum, Overeem vs. Rogers, Thomson vs. Healy, I could go on and on and on. Rich is the best in the business, rarely does a single fight on a Strikeforce card not deliver. Even if a Strikeforce fight announcement leaves you scratching your head in wonder as to why he puts fighter A against fighter B, at the end of the day, when the two warriors step into the cage, his reasoning becomes clear within the first frame of action.
That is not something you can learn, that is a gift. Rich has the goods and the knowledge to keep the good fights coming and keep the fans of MMA entertained for years to come.
Keep up the good work Rich!
An open mind, strong work ethic and unbridled passion can go a long way. It's helped former Guam resident and standout athlete Richard Chou make it in the world of professional sports.
The American Red Cross
Chou, who played Division 1 collegiate volleyball at Pepperdine University in Malibu, Calif., is a former member of the Guam national volleyball team as well as the recipient of the Most Valuable Player award in both the Interscholastic Basketball and Volleyball Leagues as a senior in 1997.
While he had a lot of success as an amateur, his professional success came in the world of mixed martial arts, and it wasn't due to his athletic prowess. Chou's work ethic has taken him from passing out promotional fliers for MMA events to his current position as a member of the matchmaking team for one of the largest professional MMA organizations in the world, Strikeforce.
"I am lucky I get to do this for a living," the St. John's School graduate said via telephone from San Jose, Calif.
"Most people never get to pursue their passion and I am grateful for it."
Getting started
Going into his senior year of college Chou got his first taste of MMA through Brazilian jiu-jitsu when John Calvo, founder of Purebred Guam, invited Chou to train with him.
"He was a big athlete and I needed a sparring partner," Calvo said.
Chou decided to give it a try and enjoyed the individual aspect of MMA since he always played team sports.
"It was something different. It was really intense," he said.
Calvo immediately noticed Chou's work ethic was off the charts. Calvo said he could foresee Chou doing bigger things because of his dedication and transparency.
"He always puts family first, he works really hard," Calvo said. "He's always got good ideas and he's honest."
After graduating college, Chou decided it was time to move on from volleyball and made the transition to MMA. Chou took his first professional fight in 2002 and two years later an opportunity to start doing work outside of the ring enticed Chou to try his hand at promoting. After six years of hard work, he's made it.
Behind the scenes
Chou said his duty as a matchmaker for Strikeforce is more complicated than this guy fighting that guy. He describes a typical work day as "a constant state of motion." On any given day he could be trying to schedule Fedor Emelianenko's next fight, speaking with a fighter from Japan or, most recently, setting the stage for the release of "EA Sports MMA," Electronic Arts' newest video game.
Despite the hectic nature of the job, Chou said it is worthwhile when the fans and fighters enjoy the show. He compared it to the adrenaline high a fighter experiences following a rousing victory.
"We get a rush from putting on a great show," he said.
He calls the sport his passion so going to work each day isn't a chore. Chou likened it to a lifestyle since his leisure time consists of training or watching MMA.
"It's a very big part of my life," he added.
Picking himself up
But life wasn't always a success for the 31-year-old. Prior to joining Strikeforce, Chou was working with another professional MMA organization called Elite Xtreme Combat. The company folded in October 2008 and Chou was left without a job.
"I took some time off and did some soul searching," he said.
For the first time in several years, Chou was unemployed and left pondering which direction to head. Rock bottom is what he called that point in his life because the sport he loved so much, left him with nothing.
In spite of losing his job, his good reputation within the industry got the attention of Strikeforce's chief executive officer Scott Coker. Coker then brought Chou aboard to fulfill the critical role of matchmaker.
"Scott really helped me take my career to the next level," Chou said.
Coker said he reached out to Chou because the two had previously worked together when Strikeforce partnered with EliteXC to produce two MMA events.
"He stood out because he was doing most of the work," Coker said via telephone from San Jose.
Hard work pays off
Coker said about 50 to 75 people apply for a job at Strikeforce each month, but Chou's knowledge and passion for the sport separate him from the rest. Coker added that he has high aspirations for Chou in the next couple of years.
"Hopefully he can run Strikeforce one day and I can step down," Coker said.
JD Penn, the president of Rumble World Entertainment, agrees that Chou has the dedication and work ethic needed to succeed. Rumble World Entertainment is a Hawaii-based MMA company that has hosted events such as the Rumble On The Rock series.
"I have worked with a lot of promoters and I would say he has a lot more dedication to this sport than anyone else. He understands how important it is to have a good work ethic and to be honest and genuine in this sport," Penn, whose brother is professional fighter BJ Penn, said via e-mail.
JD Penn added that Chou has a wealth of experience in MMA because he has worked as a fighter, a referee and a promoter. Therefore, JD Penn believes Chou has the ability to navigate his career because of his vast experience.
"It's really up to him," JD Penn said.
Giving thanks
Chou said he met JD Penn in 2004 and the two clicked immediately. Chou began working with JD Penn to promote Rumble On The Rock. Chou credits JD Penn for introducing him to the promotional side of the sport.
"I am very grateful that JD gave me a start in the business," Chou said.
Chou thanks his parents for their constant support and understanding as well as teaching him the value of hard work. He also thanks his coaches throughout high school and college.
Chris Shepherd, Chou's high school volleyball coach, said Chou was able achieve success at a higher level because his dedication to volleyball at the time was unmatched.
"He was always the first one in practice and the last one to leave," Shepherd said.
Chou credits Shepherd for helping him play collegiate volleyball. Chou also thanks Calvo, Melchor Manibusan, Steve Roberto and Roman Dela Cruz for introducing MMA to him. He is also appreciative for the friendship and support he has received from JD Penn.
Life lessons
No longer at the bottom, Chou said MMA has taught him about life and the importance of perseverance, patience and having faith.
"You just got to grind it out," he said. "There were a lot of intelligent people who got into MMA and failed. It's a really tough business."
He added that hard work and passion are the two key ingredients for people striving to break into the sport. Whether in the ring or behind the scenes, Chou said always remember to have fun, don't burn any bridges and try to absorb as much as information as possible.
"Be a sponge and take it all in."