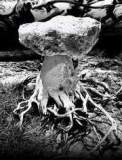 1. How did "Fokai" begin, and who were the important names behind the start of your brand.
Fokai Started as a seed planted in surfing and sprouted in Martial Arts. Important names were Roman Dela Cruz, Patrick Fleming, Steven Shimizu, and John Calvo
2. What year did you start up, describe how you started up and why, and what was the look of your first piece of merchandise?
We were conceived circa 1991 but started mid 1997. A bunch of guys looking to put a quality local label behind quality Guam ventures

3. How much did they sell for? Who bought them?
15dollars a t shirt. Friends and family, friends of family, and a family of friends
4. What influenced the brand then, and what continues to influence it now?
Perseverance and Initiative for sure but largely–The positive landmarking of Guam, the cultivation of Guam, The growing standard of quality apparel. I think now were also raising our standard of product. years int he industry and exposure to the world industry have us paying attention to finer details as well as setting higher goals for our merchandise. partly for the brand and just as importantly for our supporters.
5. Where has Fokai reached out to? California? Japan?
Saipan, Philippines, other parts of Asia, Japan, Bali,Hawaii, California, Ireland,Different sports and athletes? anything that involves sacrifice and spirit
Competitions and charities?
Have had some ventures into the Hip-Hop subculture and Drift Racing , Have taken a larger role with the Cocos Crossing, Marianas Open, Rollapalooza in the Philippines, and some Martial Arts events in Europe, Hawaii, and California etc.
6. When did you establish the first Fokai shop, and how have you guys grown now? i.e. fokai femme.
Moved in there October of 2003. Put a stronger team behind the label establishing Grasshopper Inc and Started a Japan office and shop in 2005. Opened up a Shop in San Diego in 2006. Opened our second flagship store in 2008. Most recently opened FokaiFemme in December of 2009
7. How does it feel launching the fokai femme brand and the new location?
The financial pressures are definitely there. But our main shop in Tumon was a bit too small. we had merchandise in the back that we couldn't even display in the front. We wanted to give more attention detail to our women's and children's line and thought it would best happen by the beach. FokaiFemme needed to grow in its own light so we thought moving it not too far from Home base would help the situation.
Loving the new location. the structure itself is a reverse layout of Shop 1 and its on the opposite side of the same building. so in a sense, in this new venture, we can literally express another side of Fokai.

8. whose been a big help for you the last few years?
God imminently. but Carlo Dela Cruz, Stephen Roberto, Tony Anderson, Hideaki Shiina, Enson Inoue, Wayan Kurniawan, Ryan Johnson, Steve Shimizu and Families,Richard Chou, Kie SusuicoGuam Shipyard, Purebred Lloyd Irvin, Undisputed, Spike22, WaveHouse, Ralphy's, Marty's, etc. with a Capitol ET and C. the list goes on.
9. what is the target trend of the brand (customer wise: i.e.: college kids on vacation, military personnel leaving the island, tourists) and what is something most people may not know (sponsorships of sports, japan brand/cali brand, etc).
No target trend. we just try to do what we love and celebrate the human spirit as best in fashion and function under proper inspiration and at our capacity. In the end we want to deliver a sincere and quality product and label that well represents our movement and island
something to know?
we want to help save the world
Hafa Adai,
We'd like to embrace the opportunity to say thanks to all the support from our people over the years. Fokai has always been and always be a from-the-heart process in Celebrating Life and sharing in and aiming for the good vibe. It has always been our honor to see the love that passes through our doors–its a love that we extend in our product and development.
Respect + Strength & Honor = Call Of Duty.
Proud to Rise and Fall and Rise again with you.
ForLife–Happy Thanksgiving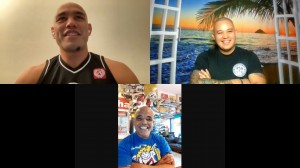 Podcasts hosts:
Roman Dela Cruz
Frank "The Crank" Camacho
Raymond Shinohara is a Marine Corps Veteran with 11 years of active service. In those years he was deployed to Iraq 4 times and Afghanistan 3 times. After his service he moved back to Guam to pursue a degree in Social Work to understand how to connect struggling Veterans to equitable, adequate and appropriate services and resources. He then further pursued a graduate degree in Social Work, Specializing in Behavior Mental Health to understand how to treat struggling Veterans.
Raymond keeps his life interesting, by helping those less fortunate at home and around the world in addressing systemic issues affecting individuals of homelessness. In his free time, he likes to stay active with Jiu-jitsu or spending time in the ocean. He also likes to catch amazing sunsets before the days end and experience delicious food and local cuisines.
You can follow his amazing journey Instagram:
https://www.instagram.com/draynom_ (@draynom_)
https://www.instagram.com/green_valor (@green_valor)
Youtube: Green Valor https://www.youtube.com/channel/UCmP9gXiOQCt3AYlrlNJu7OQ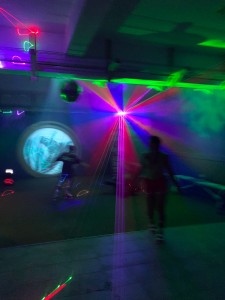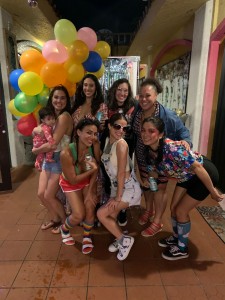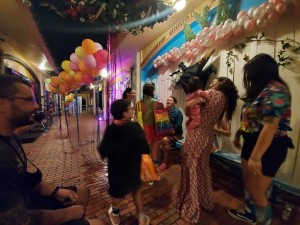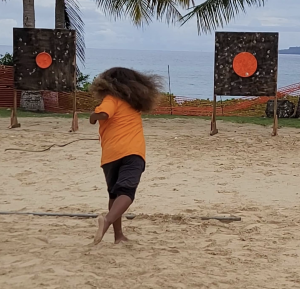 Keith Nabors, who organized the competition, said the event's 21 competitors from Saipan, Tinian, Rota, and Guam competed in three categories: men's open, women's, and under 16 and a total of 16 competitors walked away with prizes, and non-competitors were treated to sling stone lessons and free slings from Nabors.
The competitors had to stand 75 feet away from a large target with a bullseye in the middle, with zero points awarded for misses, one point for hitting the board, and two points for hitting the bullseye. Every competitor competed in five rounds, three throws each round, to post up the best score possible.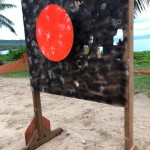 Keith Nabors was very pleased with the turnout and with how the event was run and that Tinian Mayor Edwin P. Aldan himself told Nabors that he would like to see the sling stone competition return for 2022 Taga Fest.
"It was awesome, and I'm totally excited for the things to come. …Next year, hopefully we can get more competitors out and more people interested. …It's just awesome to share the culture and get the kids back into their roots, and I just want to see the sport develop," he said.
Keith Nabors added that he'd like to see sling stone throwing be part of next year's Pacific Mini Games, which Saipan will host, and he has aspirations of sending some of the CNMI's young slingers to an international sling stone throwing competition in Spain sometime next year.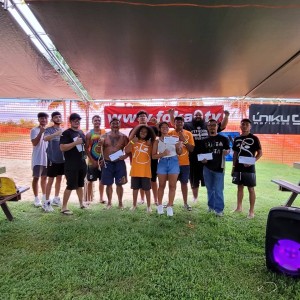 Congratulations to the winners!
Open Division winners
Unko Guelu 1st place –
#Luta
Jester Rosario 2nd place – Luta
Joeray Mangloña 3rd place –
#Tinian
Ringo Reyes 4th place – Tinian
Junior division
1st Place Keith Nabors Jr.
2nd place KyMani Nabors
3rd Place Jose Mangloña
4th place Cody DelaCruz
Women's division
1st Place Siena Lazaro
2nd Place Denicia Lizama-Luta
Youngest competitor award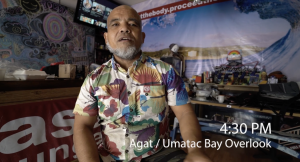 Join us on Sept 11th 2021 at 4:30 PM at Agat / Umatac Bay Overlook.
Acho Marianas will be slinging seeds for distance vegetation and to commemorate & pay homage to events transpiring in 2001 and 1671 in ancient Chamorro history. If you have any indigenous seeds available, please bring them to sling. Please come in small groups. Social distancing will be observed. See you there!
On September 11th, 1671, it is said that 2,000 warriors surrounded Hagåtña with the intent of freeing Hurao and expelling the Spanish. Read full article here: http://minagahet.blogspot.com/2019/06/wake-me-up-when-remember-september-again.html 
Fokai FSHARP | Good Vibrations. Resonate.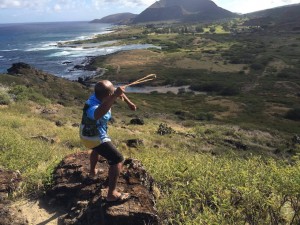 All throughout history from stories of the famous and fabled Atlantis to the Great Pyramid of Giza, and with places ancient civilizations in between, FSharp has been noted as a frequency and vibration that would send positive and productive energy throughout the land and to the cosmos.
Cultivating elements of the oldest island chain of the Pacific. F Sharp is the Mariana Island's celebration of island life
Developed in the warm tropical climate and water-based lifestyle of the people of Micronesia,  From the workplace to the impact zone, We have synergised a performance-driven and fashion-forward product as Guam and the Mariana Islands contribution for positively rooted Island Luxury Goods.
Good Vibrations. Resonate.
FSHARP
Listen to Podcasts? Follow us on Fokai & The Force Podcast 
The 1st Annual 2021 Sling League Season Finale at Sagan Kotturan Chamoru Cultural Center Guam
The 1st Annual 2021 Sling League Season has come to a close after 12 weeks of stone slinging with over 60 participants from Guam & Ireland, along with many guest slingers from Rota, Tinian, & Menorca, Spain. The format is 4 rounds of 5 stones per event. The adult males range is 65 feet in distance and women & youth at 40 feet. The highest accumulated points defines 1st 2nd and 3rd place seasonal placings.
Roman Dela Cruz, cofounder of Acho Marianas stated in an interview how ecstatic he was with the amount of slingers that turned up every Wednesday at Sagan Kotturan Chamoru Cultural Center. "I am so stoked about this season and really happy that this launched from the light of our 500 year commemoration" said Rome.
Many of the participants drove from all over Guam to Upper Tumon to showcase their slinging and share stories with the group. Along with the Marianas based slingers, Tone Susuico, former Guam resident now residing in Ireland, has gathered slingers and have successfully finished a strong 2021 Sling League season. Keith Neighbors of Tinian, has gathered a number of motivated slingers who have participated in the event and have been cultivating the art/sport in the CNMI.
Roman mentioned that the Slinging 2021 Sling Season was created in commemoration of 500 year anniversary of the Chamorro peoples large scale encounter with European Explorers.  It was also created to advance and give traction to regional  sport slinging as well as to help bridge Mariana Island's sport slinging with world affiliates. "The series finishing on Liberation Day and just before the Olympics Opening Ceremony has brought to light the spirit of freedom and the bridge of athletics that we aim to nourish in the atmosphere of what we have been aiming for," mentioned Roman.
Acho Marianas was created and given its name to the synergised effort in organizing, strategizing, and optimising modern stone slinging  in he Mariana Islands through culture and sport. When asked about why Acho Marianas was created, Rome stated: "Sling stones protected our ancestors before and continue to protect our culture today. We are happy to be engaged in this deep and wide conversation with and for the people of our past, present, and future."
Roman wanted to thank the many slingers, supporters, and spectators who were apart of The 1st Annual 2021 Sling League Season. "Saina maase to Sagan Kotturan CHamoru. Special thanks to Ambros, Priority One Transport, Bs Lawn Care Services', & Fokai&TheForce."
Looking to 2022, Acho Marianas is looking for more local competitors, more international involvement, venue upgrades, prize/venue sponsors, and continued traction toward larger events.
Biba slinging. Biba Guam. Biba Marianas!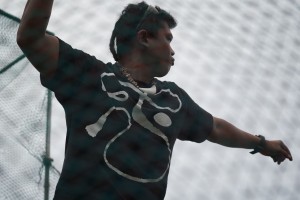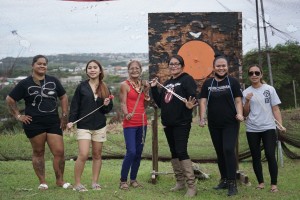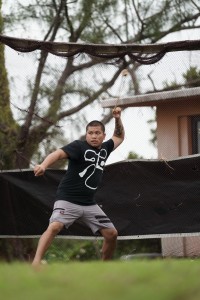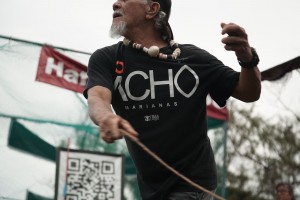 Professor Stephen Roberto Retirement Speech July 3rd 2021 | Purebred Jiujitsu Guam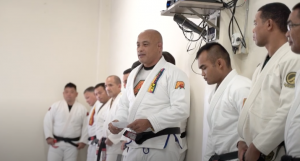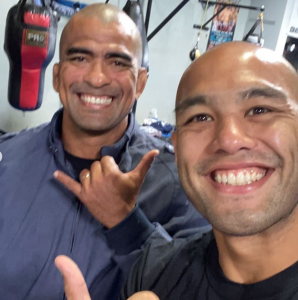 500 w/ Cuki Alvarez & Frank "The Crank" Camacho
Cuki "The Flying Cockroach" aka "The Janitor" & Frank "THE CRANK" Camacho talk about their near death experience car accident that happened on the I-405 S in California, the week of UFC 263 FIGHT WEEK for Frank The Crank Camacho and his cornerman Cuki Alvarez, who just had arrived to CA from Saipan.
Due to injuries sustained from the car collision accident, Frank The Crank Camacho had to withdraw from his UFC 263 bout against Matt Frevola.
We are grateful to have Frank & Cuki around to tell us this story with many life lessons to be extracted from this conversation. As well as some great snippets of the history of Trench Tech, Mixed Martial Arts in Saipan and the CNMI, & a little bit of everything in between.
BIBA ALVAREZ BIBA CRANK BIBA FOKAI BIBA MARIANAS