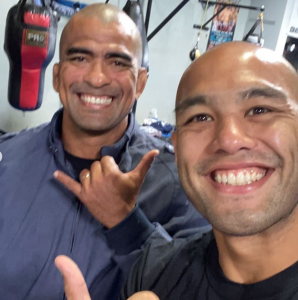 500 w/ Cuki Alvarez & Frank "The Crank" Camacho
Cuki "The Flying Cockroach" aka "The Janitor" & Frank "THE CRANK" Camacho talk about their near death experience car accident that happened on the I-405 S in California, the week of UFC 263 FIGHT WEEK for Frank The Crank Camacho and his cornerman Cuki Alvarez, who just had arrived to CA from Saipan.
Due to injuries sustained from the car collision accident, Frank The Crank Camacho had to withdraw from his UFC 263 bout against Matt Frevola.
We are grateful to have Frank & Cuki around to tell us this story with many life lessons to be extracted from this conversation. As well as some great snippets of the history of Trench Tech, Mixed Martial Arts in Saipan and the CNMI, & a little bit of everything in between.
BIBA ALVAREZ BIBA CRANK BIBA FOKAI BIBA MARIANAS
Martial arts existed before as a means of survival and self defense, then somewhere further down the line it became along for competiton, fitness, and glory.
Lloyd Irvin,Friends, and BudoVideos break it down to basics int his interview when the Secret to Lloyd Irvin'ss success is partially unveiled in this solid evidence that the many paths of martial arts can truly be life enhancing.
Much respect to Johnny H and the producers of 66degrees.
http://www.youtube.com/sixtysixdegrees
Johnny has been travelign the world the last 5years showing support and gaining quality footage to open a window into the ambitions of Guam's multi-faced talent.
Expanding his efforts in everything from Mixed Martial Arts to cultural preservation–Mariana Islands  number one video library in the 21st century is definitely enroute to true fruition. Keep the good stuff coming Johnny. thanks for your support. Were hearing you loud and clear.
Respect…sinceeversince
Photos By JohnathanBarber.
Thanks IT&E for providing me not only with superior products that keep me connected and streamlined with work and play–but also with the island's proven leader in mobile communication service.
ConnectionIndeed.SainaMa'ase
RomanDelaCruz
http://www.onmarkproductions.com/html/fudo.html
I was sure that I was given 8 ISA shirts by August 17.
All of my family were so glad that we went to that Fire-GOD ( Meguro Fudo) on August 18.
So, I said ARIGATOH to the GOD, and prayed that
anyone who wear, the shirt will have happiness to all of them.
I often wear the shirt, and hanging in the room, when I sleep at every
night. I don't know what it is, but I feel some power from the Gold ring.
I saw Yoshiko-san in GUAM, she brought the special encountering. ISA could
see you, and MIWA-san, too. These are not by accident. GOD do exist, and
Miracle do exist. Wish come true, right?
About FOKAI art:
Before he draws this image, ISA  went to pray to MEGURO FUDOH (Japanese
Fire's GOD). of-course, with me and my mother, and I took some FUDO-sama
photos. and he drawn this image.
The purple-colored character on FUDO's head is said "BONJI" in Japanese.
Generally, BONJI is written by buddhist monk(high priest).
We believe this character will guard him from injury and bring about win.
With love
Yuko SHIMIZU (ISA's mother)
ISA was born on June 15, 1994 in Japan.
His real name is ?????.
He cannot do conversation from the infancy, and the family doctor diagnosed him as autism at the age of 5 years old. It was very hard for him to associate with a person and did not have friends. So his father gave a PC to become his friend. He continues writing pictures every day, and the number of pictures is beyond 1,500 cases now. His picture has a unique atmosphere and charms the person who watched it and heals them. A teacher of his nursing found the picture which he drew on the corner of the notebook at the age of 11 years old him. The teacher liked his picture very much, and she introduced his picture with her blog for many times. Afterwards, when he and his family took a trip to Guam, they met a person concerned of the FOKAI brand by chance. Because he liked pictures of ISA, FOKAI sold the T-shirt which printed his picture. He was able to hold a small private exhibition recently. We believe that you also surely love his picture.
EnsonInoue regards this as his greatest interviw to date. Check here for a beter glimpse at the Man and Machine that has taken Japan and the World of MMA by storm.
http://www.ironlife.com/mag/issue24/upcoseandpersonalwithensoninouepartI.shtml
http://www.ironlife.com/mag/issue24/upcoseandpersonalwithensoninouepart2.shtml
james quan interview
Hope this helps. Let me know if you need additional information.
1. What motivated you into combat sports and Martial Arts?
My Mom's brothers and cousins are big MMA fans so someone is always having a UFC or Pride Fight Party. We started to really get into MMA by just watching the fights and hanging out with our uncles. My Mom's brother is Thomas Calvo (PXC / Preba Hao Fighter) and has also encouraged us to take up MMA.
2. What are some of the benefits you've gained from Martial Arts training?
 Our training has helped us to maintain a fit and healthy lifestyle. We've gained more confidence by knowing that we can defend ourselves if necessary, however, we have the mental discipline not to hurt others or cause trouble. Our Training Program has also helped us improve the skills we need to compete at a national level.

3. What do you understand about the Guam MMA and BJJ scene?
 We've heard news that there has been negativity as a result of recent incidents on Guam involving our youth. We hope that we can influence others by letting people know how this sport has helped us in a positive way.
4. As children active in this sport, what do you think can be done to cultivate a healthy environment?
Frequent tournaments sponsored by local businesses may help promote a healthy environment. Perhaps some of the local fighters should reach out to the communities and discourage violence. Free classes and seminars for our youth.

5. What is the most difficult thing about training?
Balancing school, training and friends.

6. Please give us a schedule in your training?
Mondays / Wednesday – Muay Thai / Jiu Jitsu, TUE / THU – Jiu Jitsu

7. What are your ambitions in Martial Arts?
We both want to be UFC or Pro MMA Fighters. I (Ian) want to earn a black belt in both Jiu Jitsu and Muay Thai. We also want to someday share our knowledge with our local talent who want to pursue a career in MMA.

8. Do you have anything you want to say to the People of Guam?
We've lived out in the Mainland for a long time but we are proud Chamorro's and will always represent Guam no matter where we are in the world. We hope that our story will help encourage our youth to look at MMA in a positive light.